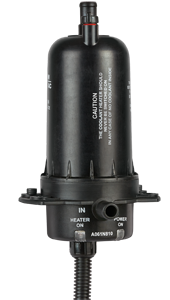 Engine Coolant Heaters are essential for maintaining the temperature of the diesel for Gensets operating in a cold environment. It provides an easier start thus improving.
Features
Air vent provided to avoid the possibility of heater element getting burnt because of no water in the system.
Indications Showing HEATER ON and POWER ON.
Electrical cables 2.5 sq.mm flexible is 694 grade. To ensure sufficient amounts of current to pass through it.
Provided with o - ring and gasket of silicon rubber to ensure perfect locking without leakages through it.
Thermostats operating temp with a 5 degree C difference in series to ensure extended lifetime of product.
Protection of Thermostat, Electrical terminals and Plating from Harsh Environment and condensation.
Available in 4 variants: 1200 W / 230 V 1200 W / 115V, 600 W / 230 V ,600W / 115 V Variants with 24 and 48 volt DC supply are under development.
Enquire Now