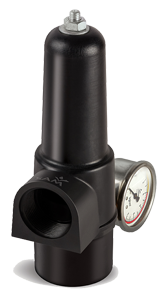 Thread Connections
Inlet Thread: 2" BSP Female Thread.
Outlet Thread: 1 ½" BSP Female Thread.
Specifications
Designed Pressure: Upto 10 Kg/Sq.cm.
Operting Pressure Range: 1.5 to 8Kg/sq.cm.
Temperature Range: Water upto 60° C.
Features
Economical.
Wide Pressure Range.
Can Withstand Pressures upto 8 Kg/sq.cm.
Applications
ECO PRV is widely used in the irrigation system.
Used as a safety valve.
Designed to protect pressurized system.
Can be installed near motor/pump to relieve sudden back pressure.
Materials Used
Body, Cover: 30% Glass Filled Nylon.
Seal: Natural Rubber.
Spring: Stainless Steel.
Cover Bolts: Stainless Steel.
Weather Resistant.
** Pressure Gauge sold as an accessory
Enquire Now