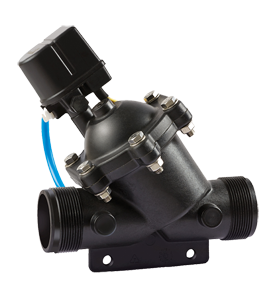 Thread Connections
Inlet Thread: 2" BSP Male Thread.
Outlet Thread: 2" BSP Male Thread.
Specifications
Designed Pressure: Upto 10 Kg/Sq.cm.
Operting Pressure Range: 0.7 to 10Kg/sq.cm.
Minimum Sealing Pressure: 0.7 Kg/Sq.cm.
Supply Voltage: - 2o-28 V AC, 50/60 Hz.
Temperature Range: Water upto 60° C.
Features
Superb Hydraulic performance with High Kv Factor.
Low Pressure Loss.
Low power consumption.
Normaly closed type.
Applications
It is widely used in automatic irrigation sprinkler systems using controller.
Used in drip irrigation system.
Can be used in downstreem pipeline & distribution lines.
Wide range of industrial applications.
Can be used for simple on/off functioning of valve.
Materials Used
Body,Cover: 30% Glass Filled Nylon.
Diaphragm: NR with Nylon Fabric Reinforced.
Seal: Natural Rubber.
Spring: Stainless Steel.
Cover Bolts: Stainless Steel.
Tubing & Fitting: Plastic.
Solenoid Pilot Unit: Special Pilot.
Weather Resistant, Encapsulated Design.
Enquire Now