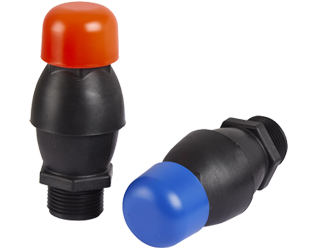 Thread Connections
3/4" BSP male threaded.
1" BSP male threaded.
Specifications
Minium Sealing Pressure: 0.2 Kg/sq.cm.
Operting Pressure Range: 0.2 to 10 Kg/sq.cm.
Features
UV stabilised unit prevents UV degredation.
Large volume of air release capacity.
Positive vacuum relief when line is draining.
Engineering plastic used for durability.
Do not need a power connection.
Applications
Air release / vacuum relief valves are widely used in irrigation system to free the trapped air.
Safe and efficient operation of a liquid piping system.
Allowing air to re-enter the liquid piping system to prevent occurance of vacuum condition.
Protection against air accumulation near filters.
Enquire Now