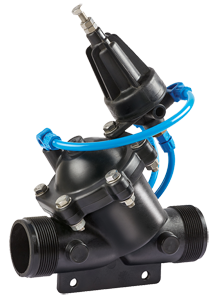 Thread Connections
Inlet Thread: 2" BSP Male Thread.
Outlet Thread: 2" BSP Male Thread.
Specifications
Designed Pressure: Upto 10 Kg/Sq.cm.
Operting Pressure Range: 1.7 to 8Kg/sq.cm.
Minimum Sealing Pressure: 0.7 Kg/Sq.cm.
Temperature Range: Water upto 60° C.
Features
High quality engineered polymers used.
Wide Pressure Range.
Chemical & Cavitation Resistance.
Normaly closed type.
Applications
Pressure Release Valves are widely used in the irrigation system.
Used as a safety valve.
Designed to protect pressurized system.
Can be installed near motor/pump to relieve sudden back pressure.
Materials Used
Body, Cover: 30% Glass Filled Nylon.
Diaphragm: NR with Nylon Fabric Reinforced.
Seal: Natural Rubber.
Spring: Stainless Steel.
Cover Bolts: Stainless Steel.
Tubing & Fitting: Plastic.
PRV Pilot Unit: Special Pilot.
Weather Resistant, Encapsulated Design.
Enquire Now